As Irish luck would have it, St. Patrick's Day falls on a Saturday, and a day that marks the beginning of Spring Break for many excitedly anxious students.
Come celebrate St. Patty's Day and school's hiatus by taking a trip to Myrtle Beach. Everyone knows it's a popular Spring Break destination, but what they might not know is how festive the Grand Strand becomes as we celebrate the traditions of the emerald 'isle.
We've compiled a list of the top 4 most popular places to celebrate the holiday. Trust us, you'll be green with envy if you miss this Irish fun!
1. Start the party early by attending the
St. Patrick's Day parade and festival in North Myrtle Beach
. The parade is child-friendly and promptly begins at 9am. Come early to grab a prime location so you don't miss the candy passed out by the floats! As soon as the parade ends, the festival begins with live entertainment, food, crafts, and of course, green beer. A separate section will accommodate the little ones' rides and games.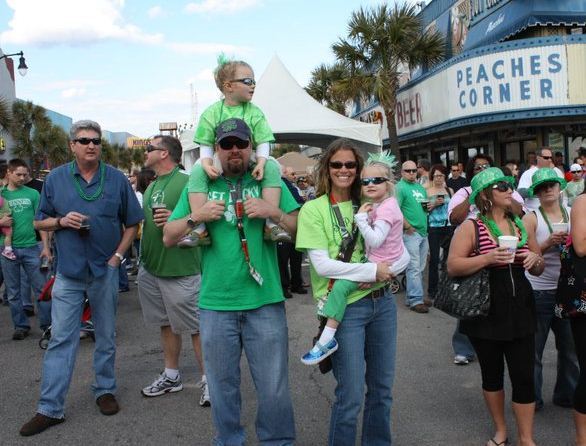 St. Patty's Day Block Party at Ocean Blvd. in Myrtle Beach
2. Enjoy the tastes and sounds of Ireland at one of our many Irish pubs. Spanning the length of the Grand Strand, 3 of the most popular establishments will be close by -- no matter your location. Try:
Flynn's Irish Tavern
(North Myrtle Beach),
Finn McCool's Irish Restaurant and Pub
(Myrtle Beach) and
O'Keefe's Irish Pub
(south of Myrtle Beach in Murrells Inlet). The food and drinks will certainly be flowing in celebration at any of these 3 taverns -- you can't go wrong!
3. One of the biggest block-parties along the Grand Strand is the
St. Patrick's Day Celebration in Downtown Myrtle Beach
. Beginning at noon, Ocean Boulevard closes as participants enjoy free concerts playing on 2 stages, authentic Irish food & drinks and the occasional dancing --or jigging! -- in the streets. There's also an alcohol-free kids' zone with rides and games for children to enjoy.
4. Just down the road from Plantation Resort, The Market Common is throwing their
3rd Annual Irish Fest
from noon to 7pm. Held in Valor Park, this party features Irish food, adult beverages and entertainment with lots of fun activities for the kids. The best part? Walk only a few steps to the many shops and restaurants at nearby Market Common to enjoy other St. Patrick's Day festivities.
This year spend your Spring Break or St. Patrick's Day enjoying warm weather, fun activities and blue skies at Plantation Resort! Call 1-800-845-5039 for reservations.
Hope to see you soon. Here's wishing the luck of the Irish to you!